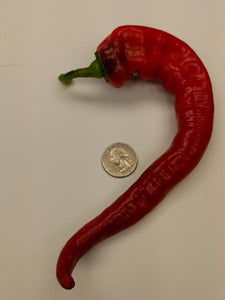 USDA CERTIFIED ORGANIC

MILD - 1k SHU

Native Region: Turkey
Also known as the Carliston pepper in Turkey, this mild cayenne has a very sweet flavor and is a great addition to soups and chili. Also a most excellent ingredient for making beef jerky!
Days to germinate: 7-10
Days to maturity: 90+
Sow indoors 8-10 weeks before transplant after risk of frost has passed. The plants grow 4-5' tall and 3-4' wide, producing heavily in mid to late season. Pods in contact with the ground will rot, and pods are subject to sun scald prior to canopy development. Not unusual for pods to rot before they ripen on the plant, may require additional calcium to prevent blossom end rot. Rapidly spoils (2-3 days) after picking - refrigerate quickly. Very juicy pods can be tough to dehydrate (slice in to chunks prior to trying) but powder is very tasty. Unless you are in a desert don't recommend string drying. 
Open Pollinated
10 seeds per pack