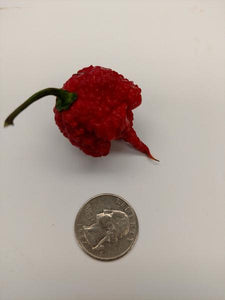 USDA CERTIFIED ORGANIC

ULTRA HOT - 1,400,000 SHU

Native Region: United States of America (Louisiana)
This cultivar was created by Troy Primeaux. If the stinger weren't enough warning, this pepper will HURT. It easily ranks right up there with the hottest in the world as a solid member of the "ULTRA HOT" category.
These have a long germination (10-15 days), and are approx 180+ days to maturity. Sow 14-16 weeks before transplanting out after risk of last frost. 
Open Pollinated
10+ seeds per pack