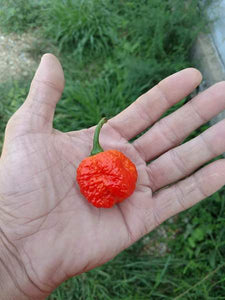 USDA CERTIFIED ORGANIC

ULTRA HOT - 1.1M - 1.3M SHU

Native Region: United States of America (North Carolina)
This cultivar was developed by North Carolina grower David Cappiello. It has a great flavor - if you can take the heat. This pepper clocks in at a whopping 1.1-1.3 million scoville, and fits in well with our select crop of "face melters."
There is a distinct sweet taste before the pain sets in. The dried pods have a fantastic aroma which is a great addition to meat and salsa. If you can tolerate the heat, makes an excellent pizza flake.
These have a long germination (10-15 days), and are approx 180+ days to maturity. Sow 14-16 weeks before transplanting out after risk of last frost. 
Open Pollinated
10+ seeds per pack