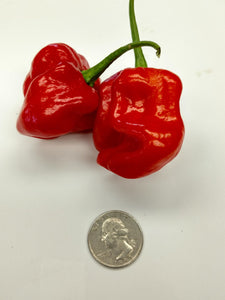 USDA CERTIFIED ORGANIC

MODERATE - 15k - 50k SHU

Native Region: Peru, South America
Also known as Aji Limon, Lemon Drop Pepper, or by the natives of Peru as qillu uchu, this pepper is used in ceviche, and other Peruvian cuisine. Has a citrus-spice flavor when cooked, excellent in chilis, salsa, and fish dishes.
Color may vary, most pods yellow, some red.

Price per QUARTER POUND. 

Fresh Produce! SEASONAL AVAILABILITY (early August - October)

Shipping is prohibited to the following locations: CALIFORNIA