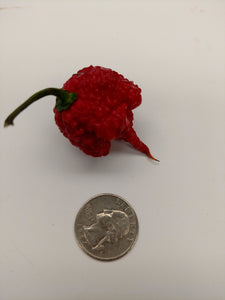 USDA CERTIFIED ORGANIC

ULTRA HOT - 1,400,000 SHU

Native Region: United States of America (Louisiana)
This cultivar was created by Troy Primeaux. If the stinger weren't enough warning, this pepper will HURT. It easily ranks right up there with the hottest in the world as a solid member of the "ULTRA HOT" category.
USE WITH CAUTION. 

Price per QUARTER POUND. 

Fresh Produce! SEASONAL AVAILABILITY (late August - October)

Shipping is prohibited to the following locations: CALIFORNIA